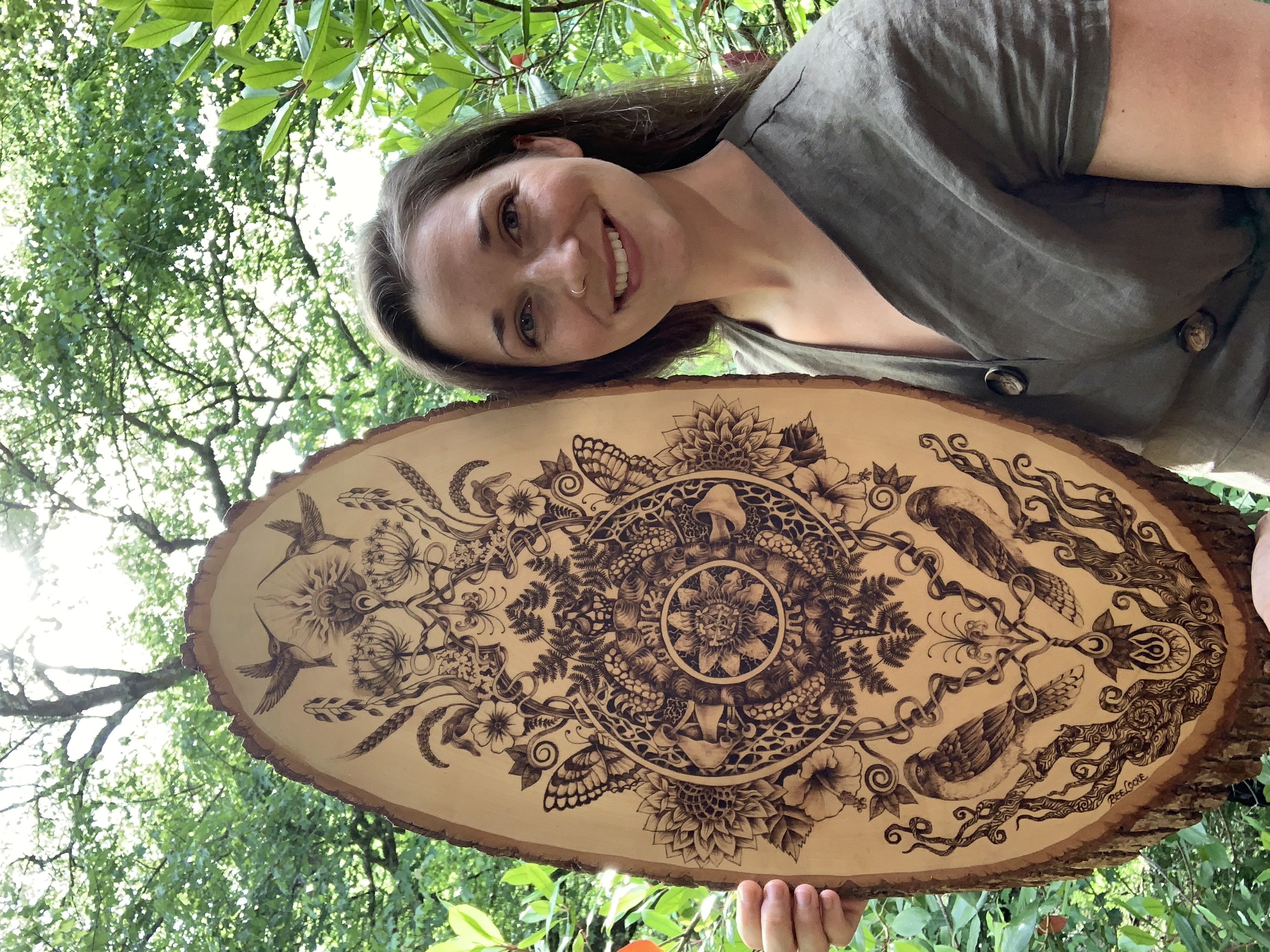 Welcome! Are you looking for ways to improve your woodburning skills? I can't wait to show you all my tried-and-true methods!
Hi, I'm Bee. Author of the book Creative Woodburning. Full time pyro artist. And (hopefully) soon to be your pyrography mentor!
I have poured all the woodburning widsom I've gathered in my 12 years of burning into the courses you will find in the Creative Woodburning School. My goal here is to share my passion for this unique art form while helping you to harness your fullest potential with your tools. Whether you're looking for inspiration or practical information about techniques you can begin using right away, you'll find what you're looking for and then some inside.
Join me and my many excited pyro students on a journey to improving your woodburning skills. The lesson you'll learn here will stay with you for the rest of your creative life.

Level up your woodburning proficiency with trusted techniques and focused exercises led by a self-taught professional pyrographer!  I want to help you succeed in building your skill and confidence with woodburning so that you can focus on the fun part: making beautiful artwork that you love!



Here's What a Few of My Students are Saying:
"Delving into pyrography to just pass the time has now become a passion—and future business venture—for me. Watching YouTube videos isn't enough and you can't always learn from your mistakes (especially when you don't know you're making them!), BUT you CAN learn from one of the best artists in the business! I loved everything about Bee's Woodburning Master Course …step-by-step instruction on tools/nibs/prepping/sealing, the motivation it provided when I hit "burner's block", moving outside my comfort zone with use of color, and embracing the nuances of burning on different woods and materials. I would highly recommend this course for any level of pyrographer; anyone at any level of talent and skill will find many "ah ha!" moments throughout the course. Thanks, Bee, for your knowledge and inspiration!"
-Laura O'Connor of Crafts of Two Sisters
"I am so thankful that I was able to take this course. When I first started, I had absolutely no idea what I was doing, what I should be using, or that this Covid hobby was going to change my world. This course answered all of my questions and taught me new skills that I am excited to incorporate into my projects. Bee made it easy to understand and a lot of fun! Her videos, guides, and exercises are so worth it if you are looking to expand your wood burning skills. Since I completed the course, I am still going back to it for a review and reminder of tips/tricks! "
-Rachel Cotton of CreativelyCotton.com
"This master class has everything you need to know about the art of woodburning. The course is super easy to follow, well-paced, comprehensive and totally fun! I loved how the course showed how to use each tool to its best advantage. The shading and coloring techniques are ones that I will use forever to give all my work so much more depth and pop. Whether you are a beginner or highly experienced, this course will take your woodburning skills to the next level and beyond."
-Zu Seguel
Potter/Artist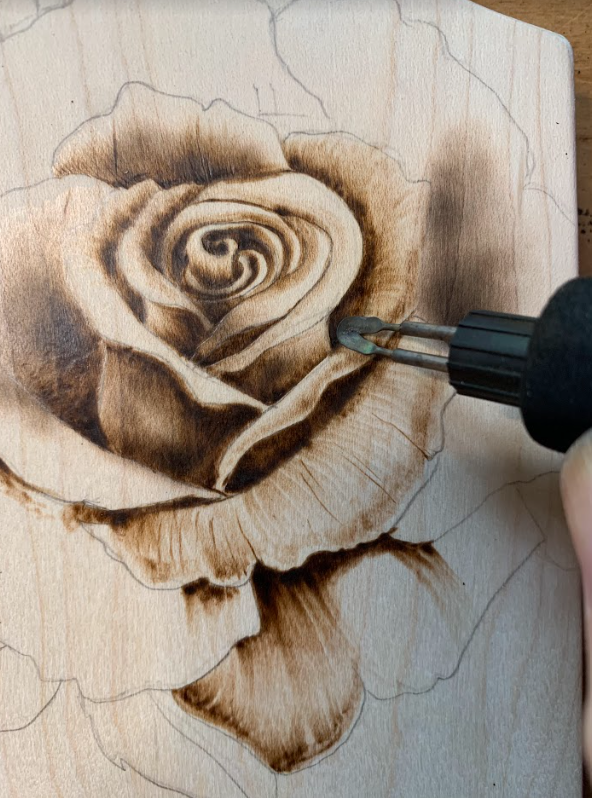 You're a Good Fit for This Course If...
you're a pyrographer at any level looking for a strong foundation of skill building exercises and inspiration
you have confusion around any aspect of pyrography including what tools, materials, techniques & products give the best results
you'd like to feel confident in your pyro skills so you can focus on letting your creativity flourish
you see other pyrographers on social media and wonder how they make it look SO EASY + you want to be at that level
you're willing to watch the lessons and put in the practice time to integrate them
you're in love with woodburning and don't know where to begin or feel stuck and not sure how to proceed
you're jazzed about nurturing your creativity as an act of self care and woodburning seems like a good way to channel that energy
you understand that making pyro art is about having a balance between discipline and imagination and you want to watch that magic happen for you!

From tools and materials to tips and techniques, my Woodburning Master Course starts with a solid foundation and builds upon that with:

35+ video lessons!
Coloring Tutorials!
Sealing Tutorials!
Wood Species Comparison
Techniques by Tip Shape
Shading Deep Dive
Exercises to Improve Your Skills
Troubleshooting Help
ALL my favorite products and how exactly to use them
Encouragement along the way!

This course has EVERYTHING you could want in a pyrography master course. And bonus- once you enroll, you have LIFETIME ACCESS to the course and anything I add to it over time.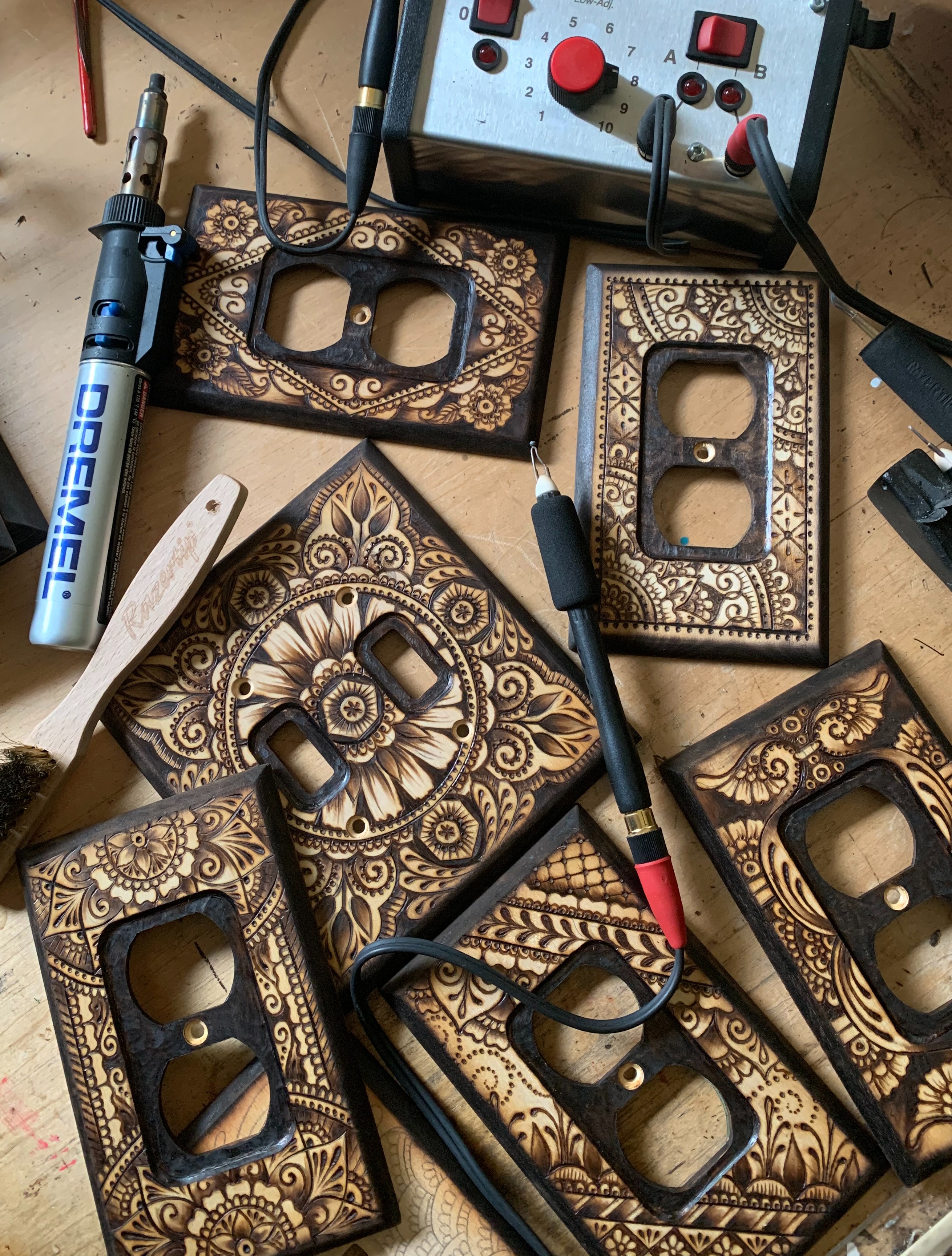 Take a Sneak Peak at the Course Curriculum!
Are you ready to stop trying to figure it all out on your own?
Believe me, as a self taught woodburning artist, I have tried EVERYTHING. I have experienced many failures along my twelve year journey with this art form. I have also experienced exponential improvement in my skills since I was a beginner. I want to show you how so you don't need to painstakingly experiment for years like I did! I want to take you right to the good stuff- those methods that actually WORK. Those products, tools, and techniques that not only give good results but EXCELLENT results. Every time.
I want you to feel the way that I feel when I woodburn something and it looks just the way I wanted it to. There is no price that can compare to the satisfaction of knowing you are CAPABLE.
Are you ready to level up your skills and see how far you can go with pyrography?

Not quite ready to enroll in the course?
Hey, I get it.
Making an investment like this in your creative growth is not something to take lightly.
Purchasing a course like this will require a commitment from you- a commitment to learning, growing, and probably trying a lot of new things you've never done before. It can be scary to say YES to something that could create big changes for you.
But I promise the rewards are worth the investment.
And I promise if you DO decide to enroll in the Woodburning Master Course, and if you follow the lessons and exercises, you'll end up more
confident
creative
skilled
inspired
and informed
than you were before you started.
The time and energy you spend in developing your pyro skills now will carry forward with you forever. There's always more to explore. That's one of my favorite things about this wonderful art form.
So, I'll be here, ready to help jumpstart your journey, whenever you're ready to level up!
All you've got to lose is the time and frustration of figuring it all out on your own.
Check your inbox to confirm your subscription